Asylum_Rhapsody
Card Design Champion
Mistress of Pain
Join Date:

3/29/2015

Posts:

3,259

BattleTag:

Asylum#1663

Member Details

---
This is the Submission Topic. The Discussion Topic is here.
---
LOVE IS IN THE AIR
A Special Edition Card Design Competition
Surprise, HearthPwn! This week, in lieu of our standard Weekly Card Design Competition, we decided to do something special to show you all just how much we love you. Given the huge success of our Winter Unveiling competition a couple of months ago, we've again partnered with MyMiniFactory.com, the world's largest curated 3D printing platform, to put on a special Valentine's-themed Card Design Competition: "Love is in the Air". The grand prize? Why, the winner will receive a Custom 3D-Printed model of their winning card!

Built by their excellent community members RicSal and 3DNA, These cards are roughly 15 cm in height and 10 cm in length, and once the model is printed, it will then be hand finished with acrylic-based paints and airbrushing to add more detail. What does a 3D-printed Hearthstone card look like? I'm glad you asked! (Click on each image for a larger version!)
And here, of course, we have Exorcism, the winner of our Winter Unveiling competition:
From winning card, to 3D render, to finished product!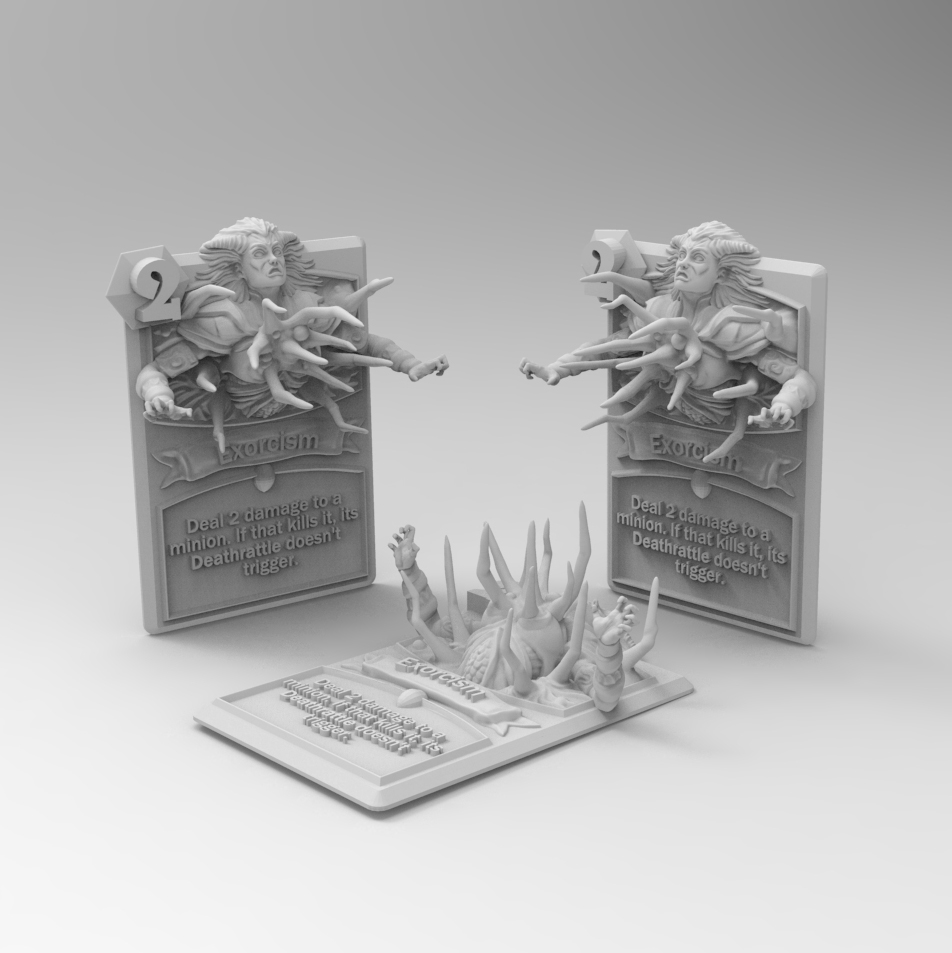 Seriously, these guys are unbelievably awesome for doing this for all of us, and you should definitely check out their pages as well as MyMiniFactory.com in general, because they've got a lot of awesome stuff going on.
If you're a 3D designer, want to get into the 3D printing landscape, and you'd like to showcase your own work, upload your 3D models to MyMiniFactory.com.
If you've entered in any of our competitions before, you already know there are rules, so let's get right to them...
Competition-Specific Restrictions:
You must select (at least) one of the following three themed restriction to abide by:

"That Special Someone" - Your card's text must reference an already existing card by name. The reference should be productive or synergistic, rather than negative.
Examples: Ball of Spiders, Stalagg. Not an example: Tuskarr Totemic.
"Tokens of Affection" - Your card must provide some benefit to your opponent. Note that being of detriment to you is not the same as being of benefit to your opponent.
Examples: Grove Tender, Leeroy Jenkins. Not an example: Flame Imp.
"Hearts Aflutter" - Your card's artwork must either depict two (or more, we don't judge) characters in a clearly romantic context (Note: Be classy. We said​ romantic, not​ erotic.), OR it must prominently depict a heart. And we do mean the classical Heart shape (<3), not an anatomically accurate organ.
Example: Antique Healbot. Not an example: Mind Control.

Your card may not produce any additional unique token cards, like how Beneath the Grounds produces Ambush! or Ysera produces Dream Cards. Your card must stand on its own, mostly because you're only getting 1 card printed if you win.
We want your entries to be more "realistic" then we typically demand for our competitions. The following set of rules were created with that aim:

Your card may have no more than 4 normal lines of text, the current maximum on actual Hearthstone cards.
Your card may not include any invented keywords, especially not to get around the previous rule.
Your card may not include mechanics that are vaguely worded, again especially not to get around the previous rules. (An example of a vaguely worded card would be Lord Jaraxxus.)
Your card's mechanics may not be worded in blatantly non-standard ways, again especially not to get around the previous rules. (Example: "Battlecry: Choose a character. It takes 1 damage." would not be accepted, because there's plenty of precedent for us to know that should just be worded as "Battlecry: Deal 1 damage.".)
Your card must be for an existing class or be Neutral.
Remember that your card must be functional. Something with the card text of "Deal 1 damage." that forgets to include that it's a Battlecry will be disqualified, as will something with the card text of "Deathrattle: Discover a minion." that requires impossible interaction during your opponent's turn.
Your card's artwork may not be a photograph or an in-game screenshot. We're trying to encourage realistic-looking entries here, and taking the time to find good artwork for your card is to your benefit anyway.

Finally, in addition to partnering with MyMiniFactory.com, we're also partnering with HearthCards.net. A lot of you already use HearthCards to create your custom cards, and dnikko (the person that runs HearthCards), made a special expansion watermark just for this competition!

Your card must have the above Love is in the Air "Heart" HearthPwn-exclusive expansion watermark.
How do you add the Love is in the Air expansion watermark to your card, you may be wondering?


First, you can find HearthCards.net by clicking here. You should see a screen like this:


To the right of where you write in the Card Text and under where you set the Card Rarity, you should see a drop-down menu for expansion watermarks:


Under the Explorers watermark there, you should see the Love is in the Air watermark, made special just for us here at HearthPwn! Simply click on it, and your card will be branded with a heart:


Note that the the Heart watermark will only appear after you select a non-Basic rarity for your card.

Otherwise, HearthCards is a pretty intuitive tool. That's why we love it so much! If you have any questions about how to use it, though, please ask us over in the Discussion Topic, linked at the top of this thread.

Remember that, although HearthCards is awesome, you MUST host your card somewhere other than Hearthcards. Save it and upload it to Imgur, Photobucket, or some other similar site. HearthCards has a limited server space and will purge cards after a few days, and nobody wants your card disappearing part-way through the finals. We understand that there are some HearthCards memberships that will allow you to save your card there for longer (and you should totally get one of those just for general fan creation purposes, by the way), but we don't know who has those memberships and we can't tell from the URLs.
---
General Competition Rules
These are the rules that remain consistent from competition to competition. Read them thoroughly, even if you've entered one of our competitions before. (Some of you still make mistakes like deleting posts or hosting your entry images on HearthCards.)
First, these are the rules about Posting:
You are allowed to submit only one entry. An entry consists of only one collectible card, plus any necessary additional material or commentary (explained below).
You are allowed to post in this Submission Topic only once, only to submit your one entry.
You may not delete ANY posts you make in this Submission Topic, not even accidental ones you may make over your one allowed, such as by double-posting or by accidentally posting something here that you meant for the Discussion Topic. If you do accidentally post more than once, inform any of the Fan Creation Forum moderators via PM, and we will handle it.
Speaking of the Discussion Topic, that is where any discussion of this competition should go. This thread is for submissions only. If you want to discuss your card or ask questions about the competition rules or process, you can find a link to the Discussion Topic at the top of this thread. Plenty of folks there will be happy to help you out.
Once you have submitted your one entry, you are allowed to make only minor changes to it. Minor changes are things like correcting typos or making balance changes that do not alter the spirit of your entry as determined by we the moderators. If you want to make any changes and have any doubts as to their legality, ask us first.
These are the rules about your Submission:
Accompanying the image of your card, you may offer some minimal additional commentary to explain its design, balance, and/or other qualities. Flavor text is also welcome.
You may not submit any Gold cards. (It's just a cheap attention grab tactic that makes it unnecessarily difficult to determine what class your card is for.)
Your entry must be a card of your own creation. We've been doing this for a while, so if you blatantly rip off somebody else's idea, we will know.
Fun and even humorous entries are perfectly allowed, but "troll" entries will be disqualified. If you're worried that your card may be misinterpreted as a troll card, contact a moderator before you submit.
TIP: Though not a rule exactly, we highly recommend that you insert your images using this icon on the bar above the post text editor:
. Just click that button and put in the URL of your image. Cards that are uploaded and attached to your post are not disallowed, but in our experience they will not do nearly as well, so this is for your own benefit more than anything.
Finally, know that manipulating votes in any way is strictly forbidden. Any violators will receive an official warning, and will be banned from this and all future HearthPwn Card Design Competitions.
---
Competition Process
Most phases of this competition have a longer time frame than usual. There are also a couple of other minor process changes from the usual, so it would be prudent for everybody to review this.
Entry Phase and Early Voting (Starts Now! Ends 20:00 UTC 11/February/2016)
It is during this Phase that you may submit entries to the Submission Topic. You may also, of course, feel free to give early up-votes to any submissions that you like!

Voting Phase (Starts 20:00 UTC 11/February/2016, Ends 20:00 UTC 12/February/2016)
During this Phase, the Submission Topic will be locked, so no more entries may be submitted. Instead, use this time to browse the submissions and up-vote your favorites!

Final Phase (Starts 21:00 UTC 12/February/2016, Ends 21:00 UTC 14/February/2016)
During this Phase, the Discussion Topic will also be locked, and a new Poll Topic will go up. Discussion will be allowed to continue in the Poll Topic, and it will also include all the qualifying finalists and poll to decide the winner of the competition!
How do we determine the qualifying finalists? First, we'll pull up-vote data from each submission using the formula detailed below:
(ab) / (c) = x
Where,
a = The total number of submissions on the same page as the submission.
b = The total number of up-votes that the submission received.
c = The total number of up-votes on the same page as the submission.
x = The submission's final score.
The formula basically measures which cards stood out the most, with the necessary assumption that each page is about equal in overall submission quality. It will be the entries that receive the highest final scores that move on to the Final Phase.
The bottom line is that, although entries on the earlier pages of the Submission Topic are much more visible and thus receive many more up-votes than entries on later pages, you don't actually have to rush to get your entry in as soon as possible because the up-votes end up being weighted by what page your entry ends up on in order to determine its final score.
If you would like to take a look at how Finalist Polls are normally conducted, CLICK HERE to check out the Finalist Poll for our Weekly Card Design Competition #39. As you can see, finalist cards are ordered by their score using the above formula.
If you are a frequent competitor, please note the following:
Because of the unique nature of this competition, we cannot predetermine or even estimate the number of finalists.
For this competition, the top-voted card on each page of the Submission Topic is not guaranteed to move on to the Final Phase.
The final poll for this competition will be hidden until its conclusion.
Wild Cards will not be implemented for this competition.
---
Rewards
In addition to OMG, a 3D-printed card, there are a couple of things here different from the usual.
Bragging rights are always awesome, but as usual, we do offer a couple of HearthPwn site rewards to competition winners:

Their card forever immortalized in our Winners' Gallery!

A unique Avatar Border & "Card Design Champion" Title, as depicted below!
(Note: As this week's competition is not part of the normal competition cycle, winners will not have the ability to help us choose any future competition themes, as would normally be the case for a standard Weekly Card Design Competition.)
---
Good Luck and Happy Winter Veil!