tingozhu
Leper Gnome
Location:

Nanjing

Join Date:

12/9/2014

Posts:

14

BattleTag:

TingoZhu#5786

Member Details
This card is just released on Day 6 of NA vs CN challenge in Shanghai, hosted by Blizzard and its Chinese partner Netease.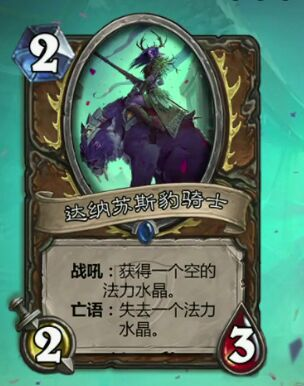 Druid class card, 2 mana, 2/3.
card name:
Darnassus Nightsaber Rider (Nightsaber Rider is an NPC in WoW)
description:
Battlecry: Gain 1 empty mana crystal.
Deathrattle: Lose 1 mana crystal.
Note:
1. The Chinese text uses "lose" instead of "destroy" as in the card text of Felguard. It may just be lack of consistency in translation.
2. The official English card name may only be "Nightsaber Rider".
Last edited by
Hazem
on Aug 2, 2015