neonangel
Location:

Roanoke, VA

Join Date:

6/2/2014

Posts:

3,282

BattleTag:

neonangel#1682

Member Details
Kobolds & Catacombs is Hearthstone's seventh expansion and is set to release on December 7, 2017.


The new set will be 135 cards.
Each class gets a Legendary Weapon and you'll be able to get a free one after you login when it releases.
New solo content called Dungeon Runs will be available, absolutely free!
Recruit is a new mechanic that will allow you to immediately summon a minion from your deck.
Unidentified Magic Items are mysterious cards that will gain new powers once they enter your hand.
Spellstones can be played immediately or empowered by meeting certain requirements.
Pre-Order cardback "For the Hoard" shown below:

This thread is dedicated to discussing the impact of these new cards on the ARENA environment.
Click below to see how each of the Arena mods rated the cards revealed so far!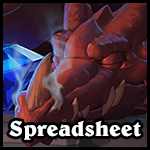 You can read each mod's detailed card evaluation by clicking on the links below.
Below you will find links for all the Class, Neutral, and Token/Buff cards that have been revealed.
Update 11/3/17: Created thread. Added initial release of cards and rankings.
Update 11/20/17: Added Feral Gibberer, Sudden Betrayal, Cheat Death, Duskbreaker, The Runespear, Branching Paths, Level Up!, Lesser Mithril Spellstone, and Kathrena Winterwisp.
Update 11/21/17: Added Twig of the World Tree, Rummaging Kobold, Zola the Gorgon, Spiteful Summoner, and Seeping Oozeling.
Update 11/22/17: Added Lone Champion, Silver Vanguard, Raven Familiar, Unidentified Maul, and Grumble, Worldshaker.
Update 11/23/17: Added Benevolent Djinn, Temporus, Grizzled Guardian, and King Togwaggle.
Update 11/24/17: Added Lesser Ruby Spellstone, Lesser Pearl Spellstone, Explosive Runes, Sonya Shadowdancer, and Arcane Artificer.
Update 11/25/17: Added Grand Archivist, Arcane Tyrant, and Psychic Scream.
Update 11/26/17: Added Hoarding Dragon, Voidlord, Fal'dorei Strider, and Hungry Ettin.
Update 11/27/17: Added Cataclysm, Call to Arms, Lynessa Sunsorrow, Windshear Stormcaller, Primal Talismans, Kobold Hermit, Lesser Amethyst Spellstone, Vulgar Homunculus, and Kobold Librarian.
Update 11/28/17: Release date announced for 12/7/17 and added Geosculptor Yip, Skull of the Man'ari, Unstable Evolution, Leyline Manipulator, and Evasion.
Update 11/29/17: Added Furbolg Mossbinder Unidentified Shield, Deck of Wonders, Reckless Flurry, Drywhisker Armorer, Elven Minstrel, and Ixlid, Fungal Lord.
Update 11/30/17: Added Possessed Lackey, Val'anyr, Lesser Emerald Spellstone, Lesser Diamond Spellstone, and Lesser Onyx Spellstone.
Update 12/1/17: Added Twilight's Call, Dragoncaller Alanna, Dragon's Fury, Dragonhatcher, and Ironwood Golem.
Update 12/2/17: Added Oaken Summons, Kingsbane, Crystal Lion, and Bladed Gauntlet.
Update 12/4/17: Added To My Side!, Murmuring Elemental, Greedy Sprite, Void Ripper, Twilight Acolyte, Woecleaver, and the remaining reveals via livestream and Facebook.
Update 12/5/17: Finished adding all the images, reviews, and added the mod averages to the spreadsheet.
Thanks to everyone for your input!!!

"To build or destroy...only you decide which joy." - Last Crack