Whale_Cancer
Silvermoon Guardian
Location:

Vancouver, BC

Join Date:

1/3/2014

Posts:

339

BattleTag:

WhaleCancer#1743

Member Details

ManaGrind and the UBC eSports Association (UBCEA) joined forces to host one of the nineteen officially listed Fireside Gatherings across the world. Held in a nice, spacious room at the University of British Columbia's (UBC) Henry Angus building, the event attracted upwards of forty five Hearthstone players. The large turnout after only six days of promotion during exam season was possible largely due to the UBCEA's promotion of the event via Facebook and through their newsletter; Blizzard supporting and promoting the event through the official Fireside Gathering website; and through promotion across ManaGrind's social media.
As we were using a university subnet, we ran into some technical issues in the first thirty minutes. Not only was it not allowing non-students to connect to Battle.net, but even those who could were not getting the Fireside Gathering cardbacks! Both issues were solved by temporary creation of a wi-fi network through several participants phones, proving that the ingenuity of Hearthstone players extends beyond the game itself.
Aside from socializing and playing some casual games of Hearthstone, the day consisted of a tournament and some group trivia sessions. Keep reading to get a sample of the trivia questions that were asked as well as decklists and a tournament report.
---
The Trivia
While most of my time was spent running the actual tournament itself (see below), whenever a round went long I would bring out the roughly fifty trivia questions prepared for just such occasions. While I tried to craft some devious questions, my fellow Hearthstone fans were more than prepared for most of them. Here is a sample of some questions; how many can you get?
Question: What are all the creature subtypes in Hearthstone? (Such as beast, etc.,)

Beast, Murloc, Dragon, Pirate, Demon, and... Totem (that is the one people were stumped on)

Question: How is the order of deathrattle effects determined when multiple minions die to the same effect?

In the order they were played; oldest cards trigger first.

Question: Which Warlock class spell can instantly kill Lord Jaraxxus?

Question: What is the name of the buff granted by Defender of Argus? Hint: It is named after an in-universe Paladin organization.

Question: Which minion's flavor text reads 'You can hire him... until someone offers him enough gold to turn on you."

Question: Which minion says "Did I miss it?" when it attacks?

Doomsayer. This is a hard sound to hear as he either needs to get charge and an attack boost or he needs to be silenced and then have his attack boosted.

Question: Which 2 Hearthstone heroes are available as playable characters in the Heroes of the Storm alpha?

Malfurion and Uther. Elite Tauren Chieftan and Illidan are also in Heroes of the Storm, but they are legendary minions as opposed to heroes.

Question: How many exclusive class cards does each class have (this includes soulbound and craftable cards, but does not include golden cards or tokens [cards summoned by hero powers or other cards])?

25, although once Curse of Naxxramas is released it is widely understood that this number will increase to 26.




---
The Tournament
Twenty two people decided to throw their hats into the ring for our Fireside gathering tournament. Thanks to the support of TESPA, we were able to offer a $100.00 purse as well as some pretty sweet swag (including an amazing Hearthstone poster signed by all the developers).
The tournament itself was a five round best of one Swiss tournament; this was followed by a best of eight single elimination tournament. After the five rounds of Swiss a top 8 was determined, although who eked into the last spot of top eight had to be determined by their tiebreaker score. The tournament was scheduled for three hours on the assumption that each round would take roughly twenty to twenty five minutes. That being said, we scheduled an hour of 'safety time' just in case things ran overtime. We managed to eat up the entire hour of safety time and about ten minutes more!
Check out pics of the tournament action (click for a larger image) as well as decklists below.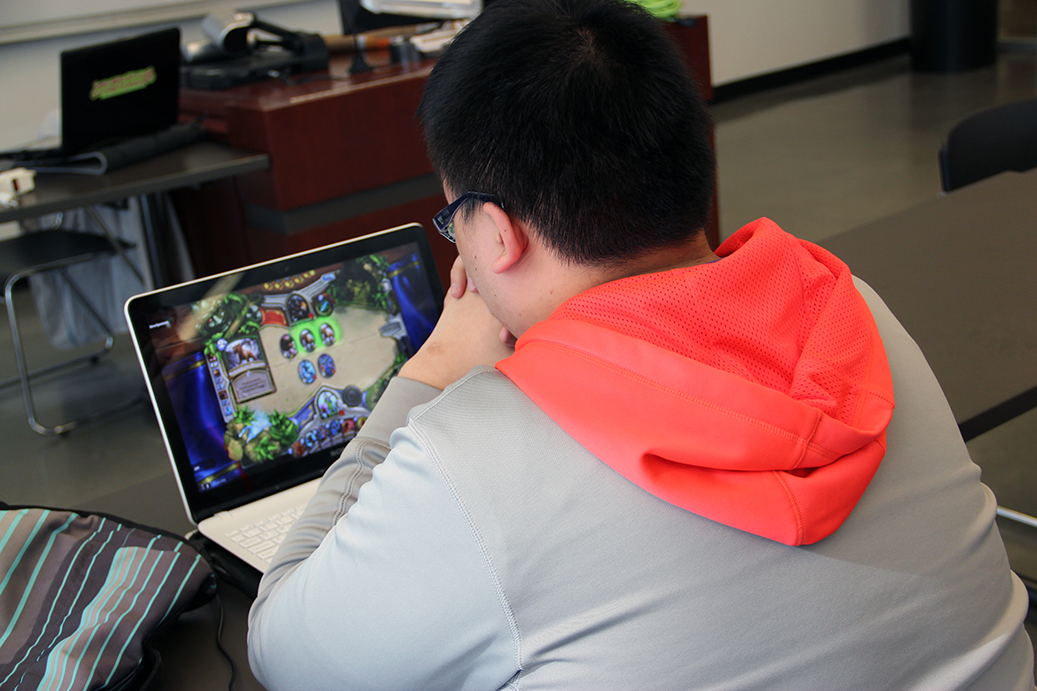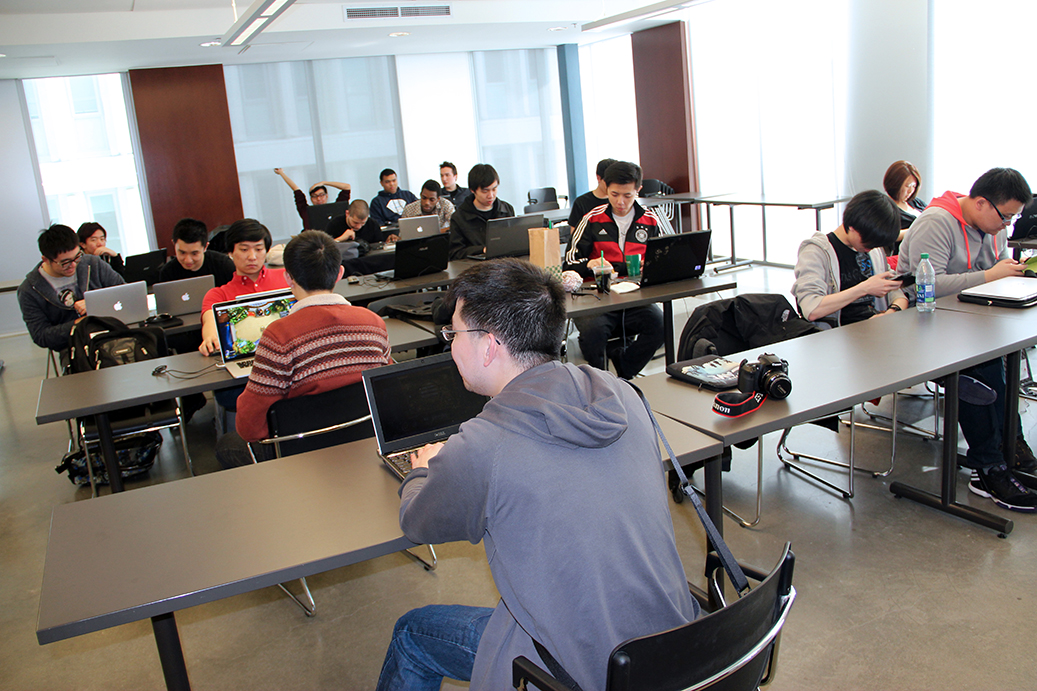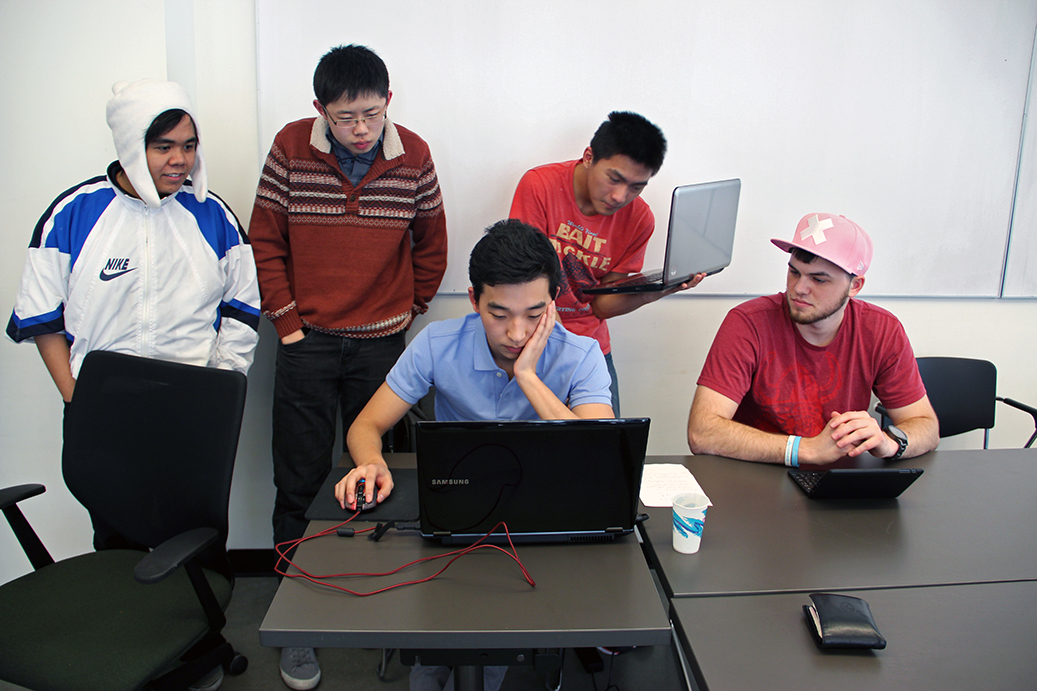 Left: zkl considering his next move, Middle: The top eight in action, Right: KewlPotato sorrounded by spectators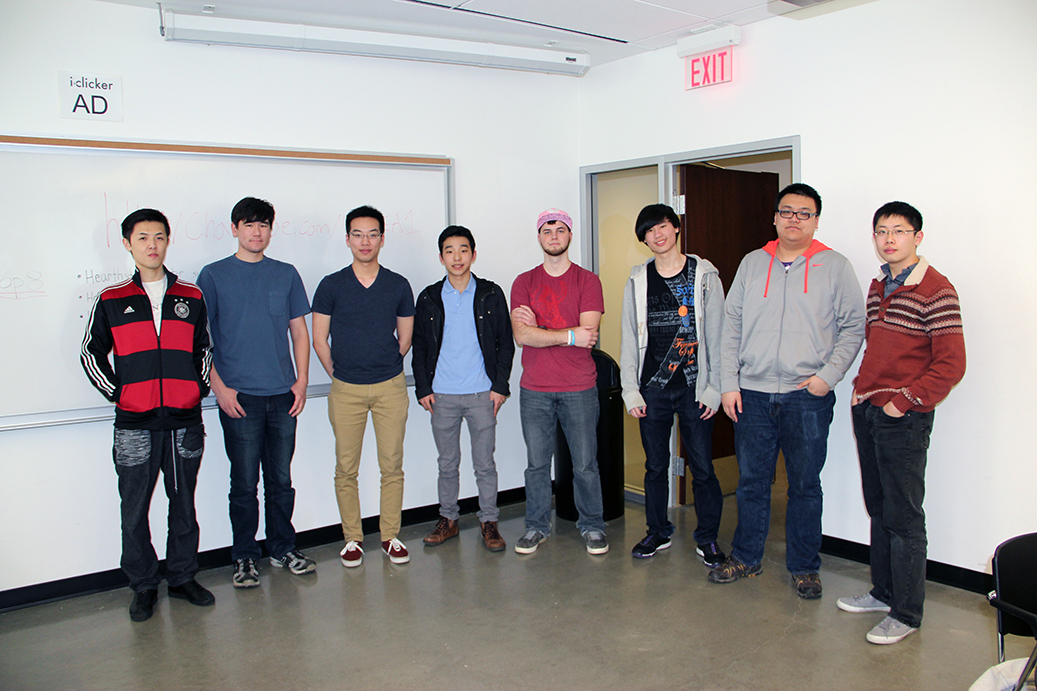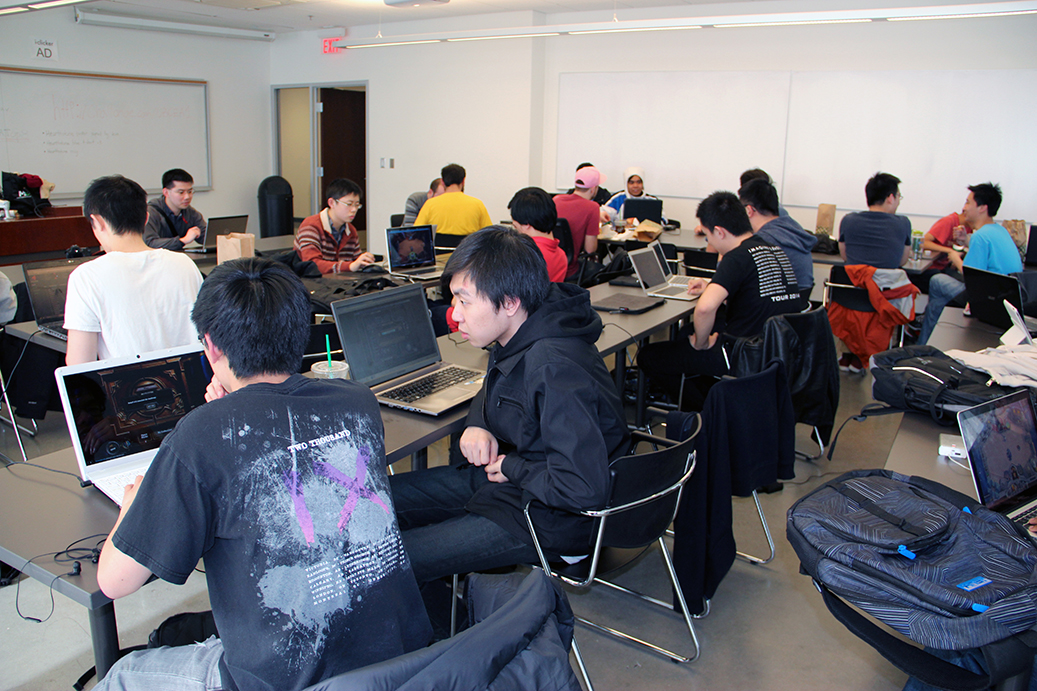 Left: the top eight, Right: the Swiss round in full swing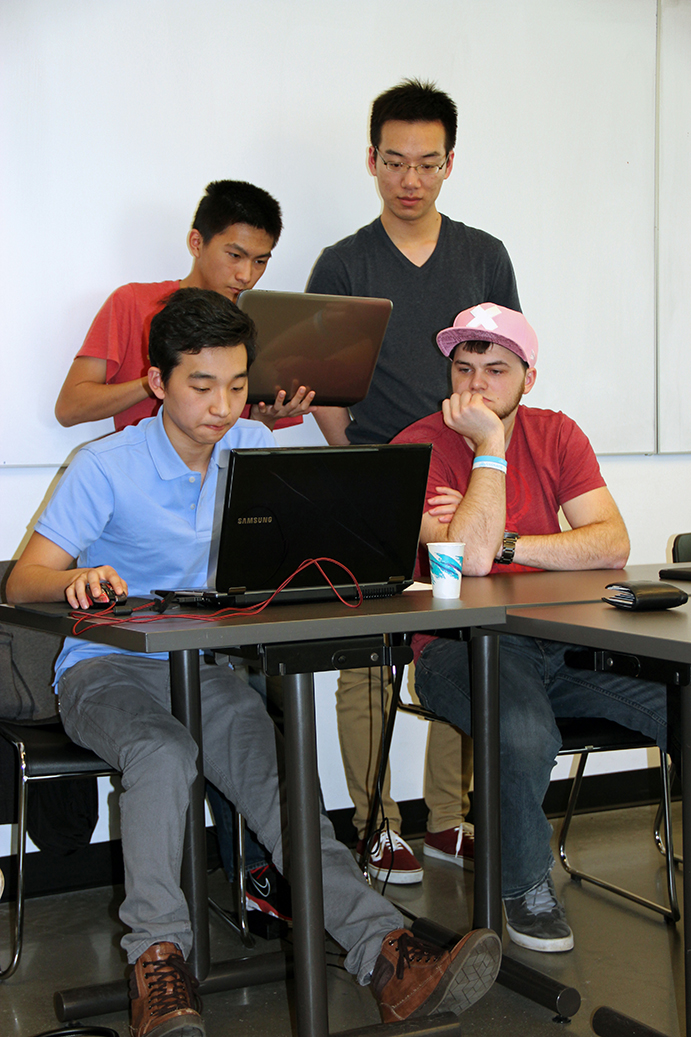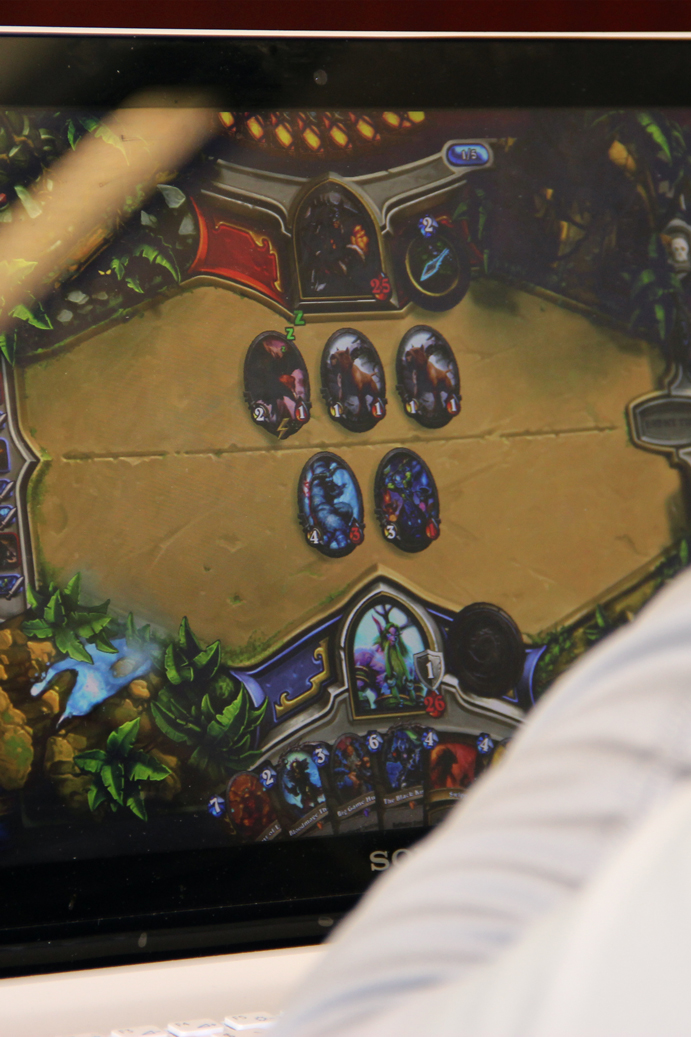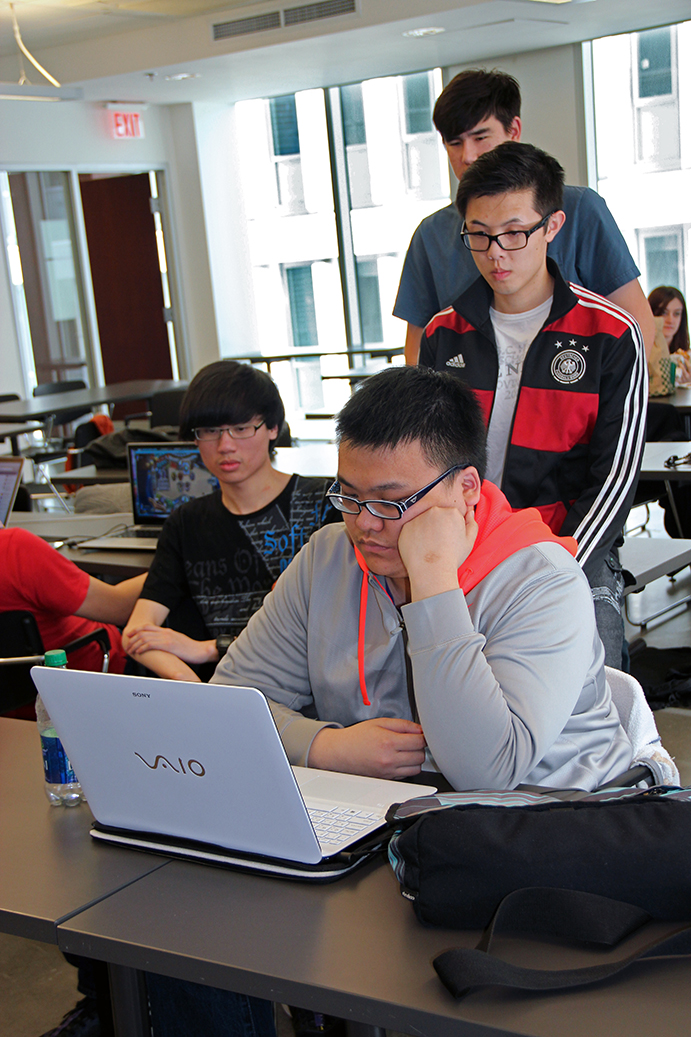 Left: KewlPotato in the final match, Middle: Final match... Unleash the Hounds!, Right: zkl in the final match

---
The Decks
Although the tournament allowed both class switching and sideboarding, we asked the top four players to send in the deck they played most frequently during the tournament. There was a nice range of classes throughout the tournament and this is well reflected in the decks of the top four. zkl's late-game/control Druid managed to take the tournament, but we also saw two aggro decks - Warlock murloc and Hunter rush - and a midrange Shaman fill out the top four.
1st - zkl
This Druid deck is fairly standard, leaning on the Savage Roar and Force of Nature combination to close out games; indeed, said combination would end up winning zkl the last match of the tournament. In addition to that combo, the deck relies on ramp elements while running some cards more common in an earlier meta such as The Black Knight and Sylvanas Windrunner.
2nd - KewlPotato
Also known as the deck that is beating you on ladder right now, KewlPotato's ultra-fast Hunter rush deck led to some rather quick games during the tournament. While the core of these decks are usually quite similar, KewlPotato brought both the necessary tweaking and ability to pilot the deck, landing him in second place.
3rd - Daninja
Daninja's Shaman midrange deck is well suited for dealing with the aggro common in the current meta, but was forced into the bronze match after losing in the quarterfinals to KewlPotato's rush Hunter deck. That being said, it proved it's anti-aggro ninjutsu by defeating justadragon's Warlock murloc deck in the bronze match.
4th - justadragon
Finally, justadragon brought one of my favorite species of critters to the table: murlocs. He made the choice to not go full-in on murlocs, eschewing Murloc Raiders to make room for more general purpose aggro. This is a trend we have seen in other recent murloc decks, but in those we often see a single Grimscale Oracle and Murloc Raider dropped instead. He also included a Hellfire as a boardclearer against opposing aggro, which is not that common a choice.
---
Conclusion
It was a great time, and I would certainly do it again! Blizzard has put forward a good initiative with these Fireside Gatherings, even if there were a few hitches. If you're in the Vancouver area, make sure to check out the UBCEA; they host a number of eSports events you may be interested in. You don't need to be a student at UBC to participate in the UBCEA or in UBCEA events, so don't be shy. If you're interested in participating in some Hearthstone tournaments online, be sure to check out ManaGrind's weekly tournaments. And, finally, thanks again to TESPA and Blizzard for providing prize support and promotion for our event.
Hope to see you all at the next Fireside Gathering,
Whale_Cancer