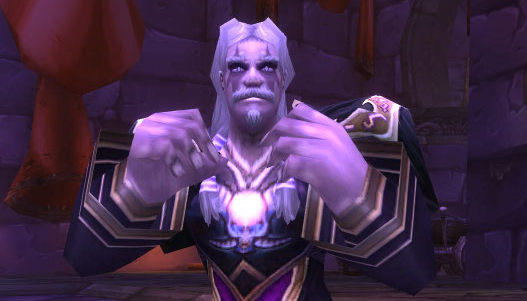 Look how scared the little punk looks... Das' because he aint got nothing against this sweet deck yo.
Info about Noth, the Plaugebringer
Noth doesn't really have a strong early game. Due to this, having a good starting hand can seal the deal with this deck. However, he has a few tricks up his sleeve due to his amount of secrets. He plays Duplicate, Ice Block and Counterspell. Due to his hero power summoning a 5/5 skeleton for each minion on your own board dying, avoiding trades killing your own minions is key.
"How do I play around Plague?", is a question that seems to reappear. The best way is to be cautious with not overfilling the board with too many bodies for him to kill. Put out minions when in need of board control. Shadow Word: Death is a very good card if he happens to use Plague.
Other than that, justboy68 made a spot on quote about this spell.
"I think like you say plague is one of those disgusting cards that you really can't do much about."
Mulligan
The Lightwell is superb against this boss, which means always keep it if you get it. Along with this card, it's brilliant to start with an Inner Fire along with some kind of control-keeper. Examples for these cards are: Northshire Cleric, Power Word: Shield and Lightspawn.
Playstyle
Always avoid trading enemy minions that causes your own minions to die. This is why you want to have the Lightwell up early. In games where you feel it's going too slow, you have Alexstrasza as a backup to really push him down to lethal range.
With this being said, keep board control as much as possible and make the right trades. Do not play minions if you are aware that they will die. Don't be afraid to use your Shadow Word: Pain and Shadow Word: Death, these cards are in the deck to avoid you being forced to make bad trades and keep the control of the board. By playing like this, I have not lost a single time out of my 5 takedowns on him.
Here is a video of me playing the deck:

Replacements
Do you not have Alexstrasza? Worry not!
Alexstrasza can be replaced with some kind of heavy minion. I'll try a few replacements and see which one is best, but for now I'd say Boulderfist Ogre is a nice pick. Another idea of a replacement would be Maexxna. Reason being it's a hard body for Noth to kill, whilst it trades perfectly to remain board control.
If you need more replacement strategies, please do comment and I'll update the thread with answers.
More info coming soon!