S34 Control Warrior Still Alive!
Last updated Feb 7, 2017 (

Gadgetzan

)
|
Wild
17 Minions
10 Spells
3 Weapons
Deck Type:

Ranked Deck

Deck Archetype: Control Warrior
Crafting Cost:

14560

Dust Needed:

Loading Collection

Created:

12/9/2016 (Gadgetzan)
View Similar Decks
View in Deck Builder
Country:

Tournament Decks:

38

Ladder Decks:

176

Submitted By:
My S33 Control Warrior still doing big things. Thanks and enjoy! Still climbing 2/7/17. No Forsen didn't create this deck he's just my dad. Stay thirsty my friends! 50 VOTES!! Thanks guys and gals!
Updated list with a few different cards for more consistency across the board*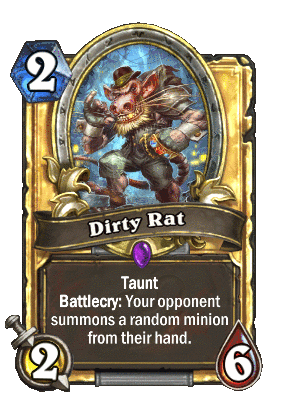 Tips
---
Turn 7 Dirty Rat, Brawl combo is effective
Try to have an answer for any possibility that Dirty Rat may throw at you. IE your removals.
As far as mulligans it's pretty much your standard control warrior. Control the board with your weapons and removals. Keep Fiery War Axe. If you suspect aggro it's ok to keep a Ravaging Ghoul. If you have coin and you suspect aggro you can keep your taunts in hand.
Against Pirate Warrior, in addition to Fiery War Axe, keep Revenge as your health may drop fast if the roll into a sexy curve. Bashs are good to keep also
Latest
I want to thank the community and comments for keeping Control Warrior viable, and continued support for keeping this deck around. Please post your stories and games on your trip to Legend as we continue to climb the ranks! Keep up the Control!