Battle Tag:

#2280

Region:

EU

Total Deck Rating

35
Y'Shaarj's Call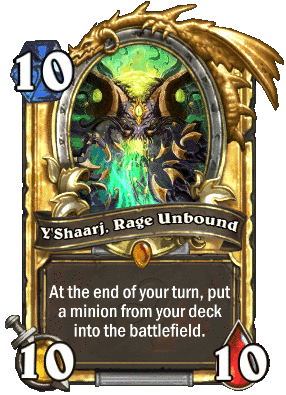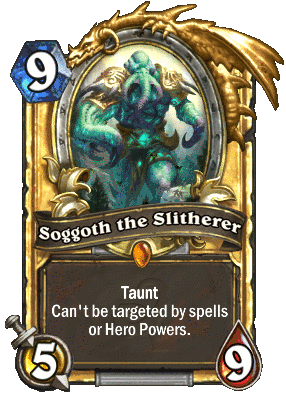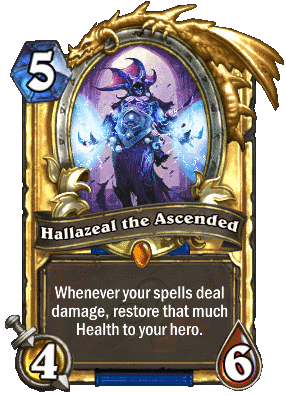 Introduction:
Are you weary of all those one-sided Decks out there? Then let's embrace the arrival of the all-mighty Y'Shaarj, Rage Unbound together !!!

Here is a Deck I came up with a friend (N3o_Zelandais) as we were sick of playing decks with similar or repetitive win-conditions. It offers you an infinite amount of ways to destroy your opponent with all those cards that you always dreamed to play with. Ancestor's Call permits us to get our stuff on the board on turn 4 even if we only play big minions.
Game Plan:
The main idea behind this deck is to destroy everything and draw until we can play our big minions for 4 Mana with Ancestor's Call and start comboing with Ancestral Spirit and Reincarnate. Since we don't play our minions from our hand we only need those who have a direct impact on the game without a Battlecry.
Even if we don't have an early Ancestor's Call we should be fine. Shaman's got a crazy amount of single-target removals, AoE spells and we can heal for 28 HP (2x14) with Healing Wave and for 30+ with Hallazeal the Ascended in combination with our AoEs Spells.
Our opponents don't know what they are playing against, we have the surprise effect.
Card Explanations:

Possible Changes & Replacements:
Match-Ups & Mulligans:

Druid:
Hunter:
Mage:
Paladin:
Priest:
Rogue:
Shaman:
Warlock:
Warrior:
Glorious Screenshots:
What's your board on turn 5 mate?

A few Firelords.
Some KT's to bring back Michael ! Hee heee shamona !!
Who gets cancered now?
Y'Shaarj doing Y'Shaarj stuff.
Some Shredders about to rekt this zoo-asshole.
Feel free to submit your own screenshots or videos !
Please comment any suggestions or fun experiences with this Deck.
We will be happy to answer your questions!
Thanks for reading & Enjoy the might of Y'Shaarj !