There will be a 2.0 version soon, just didn't have the time to play much atm.
I think i will post it after X-Mas and then we can go Legend with it in Season #1 2016!!
Wish you all happy holidays :-)
---
If you have any questions or ideas how to improve the deck please leave a comment below, i'll try to answer each of them. If you have fun and/or success with it climbing the ladder, hit the "+" button. Thanks!!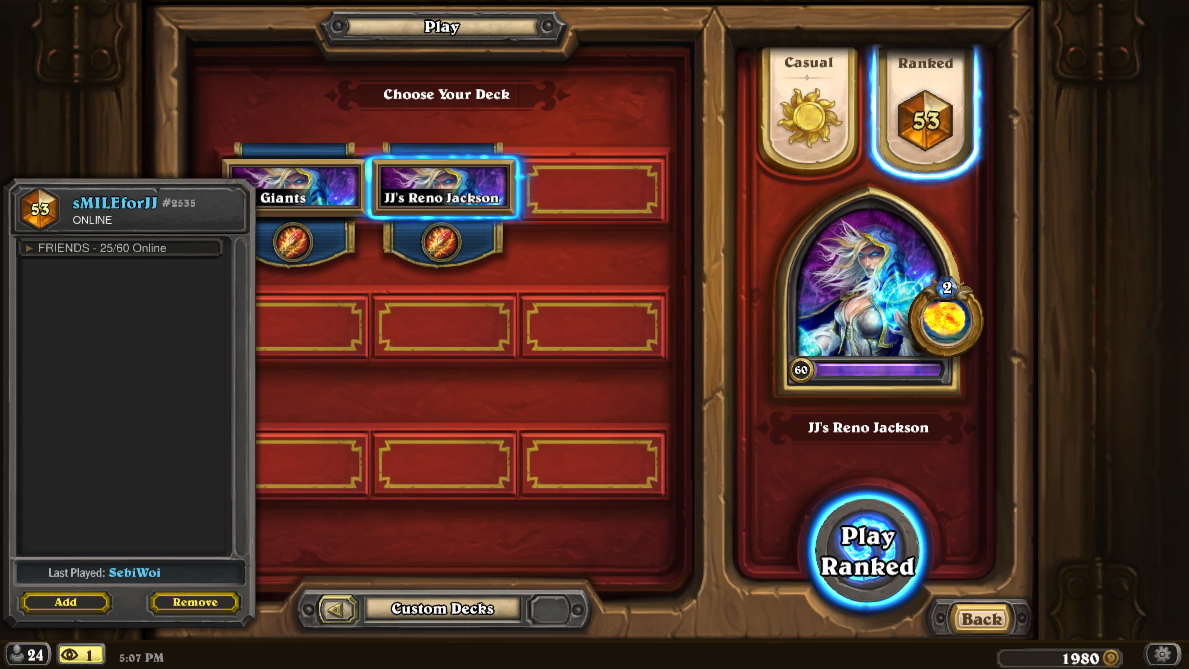 ---
Introduction
FAQ
Changes
How to play
Card choices
Replacements
---
Introduction:
I'm JJ, a german Hearthstone player. I made Legend nearly every season and mostly with my own builds. After the new cards were announced and i saw Reno Jackson i knew i needed to build a deck around it. I love highlander decks (only 1 copy of each card) from Magic the Gathering so this is just perfect. Mage is my favorite class so i started to try different builds and came up with this beauty <3.
This deck is alot of fun and still very competitive. It feels like you never run out of gas and have an answer to everything.
I played the deck from rank 5 to legend. At rank 3 i had a hard time but then it was very easy. My last 30 games went 22-8, so ~73% winrate. Overall it was something between 62-65%.
---
Changes:
---
FAQ:
Why only 1 copy of each card?
At the beginning i tried to run a 2nd copy of Mad Scientist, Ice Block and/or Duplicate. But after i lost some games with Reno Jackson in hand and still 2 copies of the same card in the deck (could'nt heal up), i changed it to 1 copy each.
You can swap out cards that are not needed to make the deck work (Water Elemental, Abomination, etc.) against the current meta. That way you make these matchups better without losing much power against the others.
It's a Highlander Deck!!
Will you add Brann Bronzebeard?
---
How to play:
(If you think different about a matchup or that i forgot one, let me know)
---
Card choices:
---
Replacements:
---