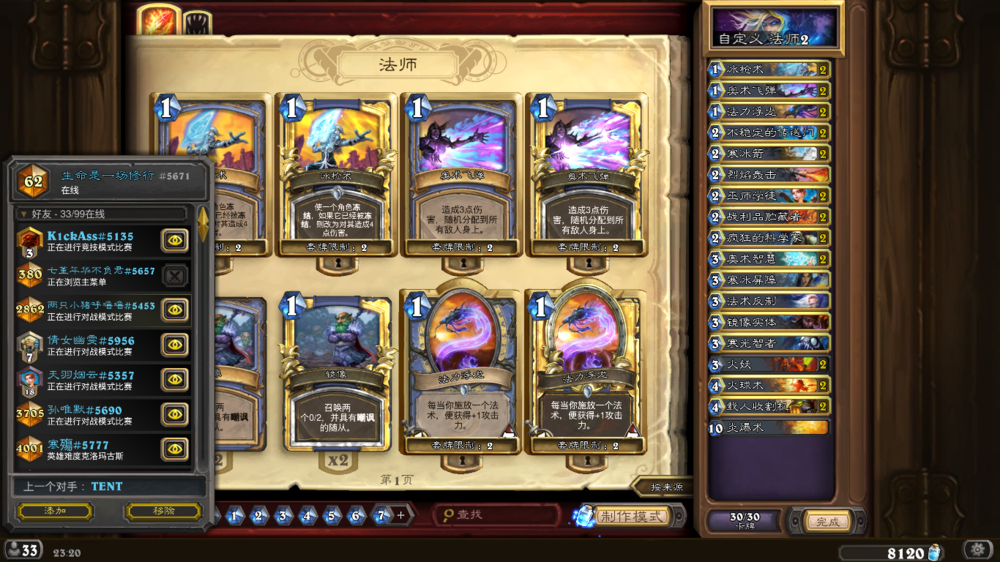 Hi guys, I'm Yueshen.
Chinese players and their decks are kind of unknown to the world, but there are still some good players and interesting decks. You may heard about the Chinese Priest that Savjz used, and also you may know the Freeze Aggro Mage made by Tiddler that Gosugamers posted before. I will share some interesting decks in CN servers in future. Hope you can get what you what.
The Chinese player called (life is a trip)#5671 used this Mage deck easy climb to Legend #62 in CN Server.
We can see there are a lot of spells to work with Flamewaker.
This Aggro Mage is strange with its playing style. As the Aggro Mage you should clear your opponent's board and go face at the same time. You also can find some Tempo Mage's cards such as Unstable Portal and Mad Scientist-Secret combo in this deck to help you getting advantage early.
Ice Blockcan help you to survive one more turn then you may can draw enough damage to win the game.
I will not say a lot about how to play it, in my perpective it must be better for people to understand after trying it.
Thanks to everyone who took the time to read this. I plan to continue sharing Chinese Decks in future.
Edit: 4/29/2015
"Life is a trip"#5671 changed a little bit and used this hit Legend #7 in CN Server.
Matchup:
Favorite matchup:
Oil Rogue: You have a lot of damage, just think yourself is a Face Mage. Easy win for this. (2-0 100% winrate against Rogue.)
Midrange Druid: You are faster than Druid. If you can play Flamewaker or Antonidas with your cheap spells, you have a huge chance of winning.( 9-2 78% winrate against Druid)
Midrange Hunter/Face Hunter: You can clear Hunter's board and deal damage at same time. 100%winrate against Face Hunter, and Midrange Hunter is much less than Face Hunter in China. (13-3 81%winrate against Hunter.)
Handlock: Easy win. (11-4 73% winrate against Warlock)
Priest: Priest is kind of passive. If you can deal some damage with your minion, it will be easy for you to win the game against Priest. (3-0 100% winrate against Priest)
Normal matchup:
Grim Patron Warrior, Paladin, Freeze Mage
Not good matchup:
Control Warrior: Too much armor, and it is easy for warrior to clear your board. If Control Wrrior doesn't Draw good, you still have chance to win. (9-6 60% winrate against warrior)
Zoo: Too many minions, some times you will worry about to use spells clear the board or go face.
Mech Mage: Same reason as Zoolock.
Go face as much as you can usually. Try to deal damage with your minions at the early game.
Hope you guys can have fun with this made-in-china deck. haha
Thanks for taking time to read this!