Instead of showing you someone else achievement, let me show you the deck I used to HIT RANK 4 LEGEND!!! Huge shoutout to Otsuna for creating this list!
Want to learn this deck? Check out my stream where you can see the ENTIRE CLIMB!
twitch.tv/clarkhellscream
IF YOU ENJOY THESE DECKS, POSTS, AND VIDEOS, PLEASE CONSIDER GIVING THIS DECK A THUMBS UP TO HELP ME OUT!!! THANK YOU!
(Want to see the deck in action? Check out the video below for some insane highroll turns/highlights, as well as a Deck Breakdown to help you learn how to break the meta!)
Gameplan:
Play minions. Gain corpses. FarmHawkstrider Rancher value. Play Grave Strength. When that doesn't work, play Lord Marrowgar with 20 corpses and watch your opponent cry.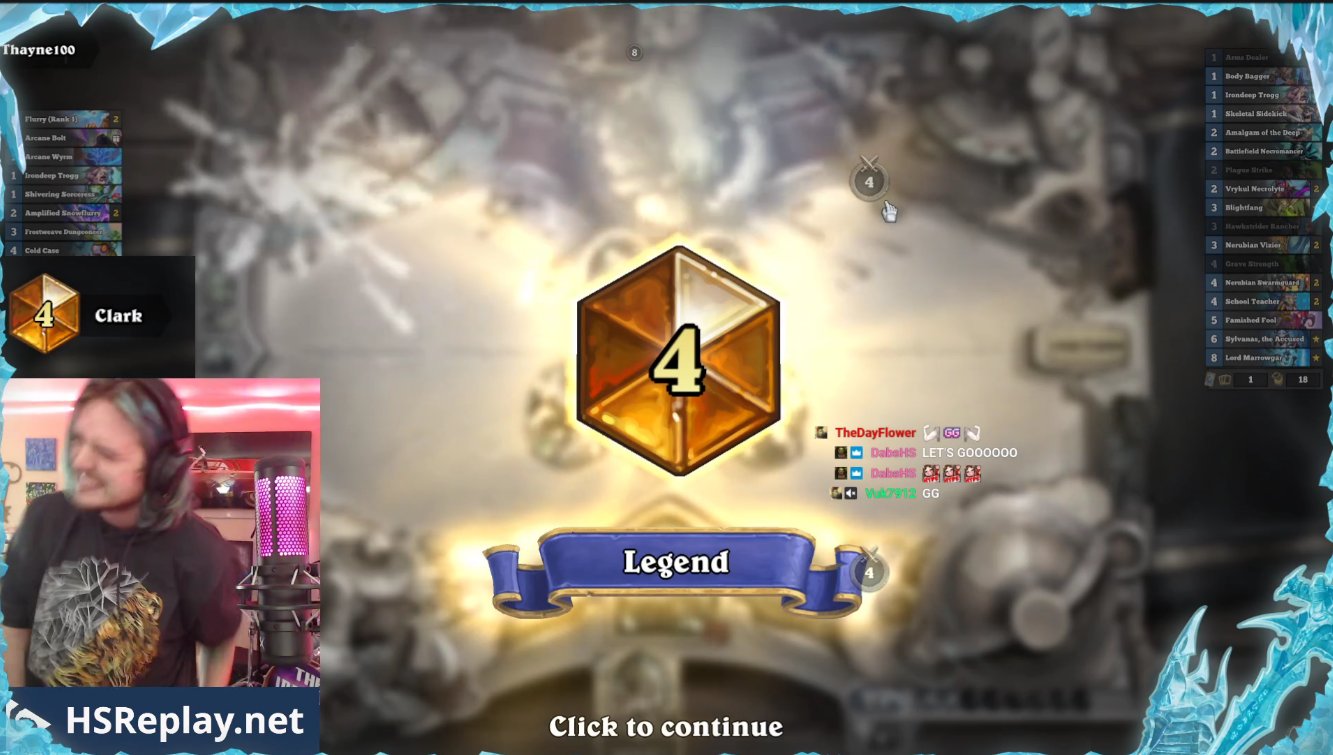 This deck isn't hard to play, but it is difficult to master, playing each turn perfectly. Knowing when to play Hawkstrider Rancher is crucial to do well with this deck. The buff to Battlefield Necromancer impacted this deck heavily, where it is extremely common to simply play Body Bagger into Necromancer for two 1/3s and a 2/3 by Turn 2. This start is deadly to most other board-based aggro decks.
School Teachers give us scam potential in case our board gets cleared. Blightfang according to Vicious Syndicate is "Blightfang is the best card in the deck." Blightfang gives us an insane advantage against board-based decks, especially when you're already ahead on board. This card can literally solo Pure Paladin if used correctly.
Sylvanas, the Accused can be cut, but I personally like what it can offer. Dealing with taunts can be troublesome, so destroying or straight-up taking it has won a decent amount of games that were unwinnable without Sylanas. She can be replaced with a second Famished Fool, which is another insane card in this deck to give us cycle.
Some lists are cutting Troggs for Peasants and using Double Fool for maximum card draw. I haven't tested this list yet, but I imagine it's just as good, maybe even better. I will include the cards to cut down below.
Mulligan:
ALWAYS KEEP: Body Bagger, Irondeep Trogg (don't keep on coin), Arms Dealer, Battlefield Necromancer, Hawkstrider Rancher (on coin)
SOMETIMES KEEP: Vrykul Necrolyte (with 1 drop), Plague Strike (against aggro match ups), Skeletal Sidekick (with Arms Dealer and coin)
Another list to try if you don't like Troggs/want more card draw
-2 Irondeep Troggs
+2 Peasants
-1 Sylvanas, the Accused
+1 Famished Fool