(Legend) Control Soulthief egg paladin (Explained)
Last updated May 30, 2018 (

Spiteful Nerf

)
|
Wild
21 Minions
6 Spells
2 Weapons
Deck Type:

Ranked Deck

Deck Archetype: Control Paladin
Crafting Cost:

12220

Dust Needed:

Loading Collection

Created:

4/16/2018 (Witchwood)
View in Deck Builder
---- post nerf ----
CONTROL PALLY IS NOW GOOD
I just hit legend with this deck. I will happily put this beauty in T2/T3 area.
Nerubian Unraveler are there to counter druid
----- PRE NERF -----
This is the newest and the best version of control pally in the meta.
50 upvote for match up and how to play ( this is kind of a difficult deck to play)
(I know there are a lot of writing, but there are just so much to talk about. I am a huge fan of control paladin, I;d like more people to know how fun control pally really are. So if you like this deck pls cares to upvote ;D)
some replaceable card.
Harrison Jones -> any ooze ( except green jelly )
Jones and tinkmaster is how you win VS warlock they gives you a big upside
Benevolent Djinn -> Paragon of Light
same card but I think Djinn is better, because we only have one Sword of Justice
Tinkmaster Overspark ->Witch's Cauldron
I can goes on for a whole day to tell you why Witch's cauldron is a godlike card Ravencaller is in this deck only because of Witch's cauldron ( also ravencaller is nice to have VS aggro)
Package explain
deckbuilding is why I like hearthstone , I am going to explain some package or tech card, you make your own decision how to optimize the deck.
&some package are not inside this deck
Witch's package
Witch's Cauldron + Ravencaller+Sword of Justice
In my opinion this is the best package, I used to have two cope of Cauldron and ravencaller inside this deck, but I changed them to adapt the meta. Overall if you are facing a lot of face deck, you can always take this out.
Techcard's package
Tinkmaster Overspark+Mossy Horror+Azalina Soulthief+Harrison JonesNerubian Unraveler+Chief Inspector+King Togwaggle+Spellbreaker+Skulking Geist+Hydrologist
These are my techcard of choose each one targets one/two deck,
(This is getting way too long…… if this deck reach 50 upvote I will do a full explain on every control package like - Lynessa Sunsorrow package - Quest package -Sword package- The BELL package - Spell package - Heal package - elemental package - ODD package-Countess Ashmore package)
I love control deck, I only plays control deck thank you for reading upvote pls? help a lot
UPDATE:Apirl 20
I am working on a new list with Skelemancer as one of the tech card, there might be a new build. So I can't take all the credit for this deck. In the name of Sand Uncle, we honor him, the man who only plays control paladin! (over 30000 game won) We did a lot of control paladin deck building per expansion , and basically this was the list. Turns out it is pretty good~
(PS thanks for all the upvote package explaining coming soon )
Update: 24 Apirl
Why I picked these card.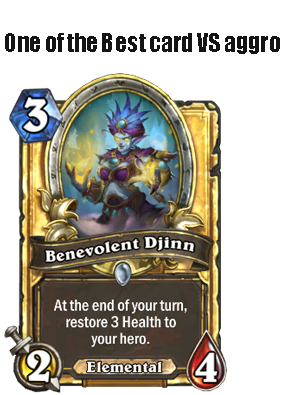 I think this card is just a better Paragon of Light , it heals you every time 2/4 means it gets good trade. Without it, Control paladin would unplayable. ( Meta is really aggro heavy right now, so this is a really important card.)
Always keep this card when up against Rouge/Druid, Paladin don't have a lot of good healing right now, so 3 health can be very important in these match up.
Where do I start, I mentioned this before, this is a overpowered card, especially in paladin. Before WitchWood, paladin used to Run Hydrologist , Ivory Knight or Grimestreet Informant as the spell discovery of choose. they let paladin picks card depends on the situation ( really helpful ) but with witch's cauldron you covers all situation! If your opponent is dumb enough is let this live. you will get a free win. Some could say shaman spells are bad, but if get them for free - they are op as F.
Update incoming: Soul thief / how to beat warlock
Update: 25 April ( Changed image, NEVER USE PHotobucket ( Worst image hosting site ever)