% Kingsbane Miracle and Tempo Kingsbane
Last updated Dec 10, 2017 (

Kobolds Patch

)
|
Standard
14 Minions
15 Spells
1 Weapon
Deck Type:

Ranked Deck

Deck Archetype: Miracle Rogue
Crafting Cost:

9280

Dust Needed:

Loading Collection

Created:

12/2/2017 (Marin's Treasure)
View in Deck Builder
1 - Quick introduction
Hi Hearthpwn community!
We're Jumarti and Weedovore, two die-hard Rogue fans who enjoy experimenting, testing and theorizing for the Rogue class with the goal of competition in mind; and Kobolds and Catacombs with the new secrets, Fal'dorei Strider and the Kingsbane, is bringing a lot of new possibilities to the class that caught our attention and allured us to join forces for the construction and constant refinement of a competitive Miracle Rogue deck exploiting the potential of the new cards.
Finally, feeling satisfied with the deck we have been working on, we considered that it would be worth to show it to the Hearthstone community so anyone looking for either a competitive Miracle Rogue deck, a serious approach on the new cards or just and interesting deck to have fun with can get a solid starting point. Also, we as authors and players benefit a lot from the interaction with the community since the discussions the deck generates are going to be very helpful for us to polish it as much as it needs with the ideas the other users share.
---
Tempo Kingsbane variant
After a few days of practice and enhancement to our first Miracle Rogue shell, we paid some close attention to the feed-backs of our fellow Rogue players and we've seen a lot their desire to have a more effective deck against Aggro match-ups. For those reasons, we've decided to work on a second list called "Tempo Kingsbane" with a more proactive playstyle and a better board domination in the early game. After a bunch of research on HSReplay, Reddit, and a very instructive discussion with the very dedicated Wild format Oil Rogue builder Kohai_ , we're finally ready to share with you our second list.
Both decks will have their own summary and guide for you guys to be able to choose between which one interests you the most, but still keep a strong link with the players preferring the other one, in order to make us share more of our experiences playing our favorite Kingsbane decks, enriching both decks at the same time !
---
2 - Summary of the deck's game plan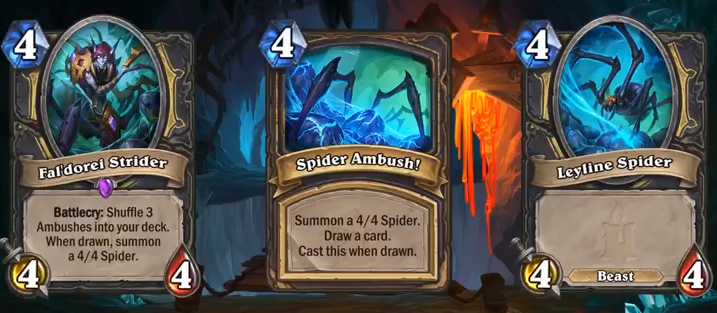 For anywone wanting to quickly understand the main strenghts and goals of our deck.
Kingsbane Miracle summary
Miracle Rogue is an archetype pretty dependent on RNG but somewhat consistend as the game progresses, capable of pulling very strong Tempo plays and generate a lot of Card Advantage, which allows it to shape it's gameplan depending on the opponent's deck and remarkably have some ways to win against any deck. Because of that, it's an archetype based on decision-making and skills to mitigate the impact of RNG, which gives it a very high skill ceiling and makes it extremely rewarding as you master it.
Kingsbane Miracle is a deck that follows the same principles as every Tempo-Oriented Miracle Rogue deck, which are using a lot of efficient Tempo tools and cheap spells to fight against faster deck's early game or dominate it against slower decks, and then use Gadgetzan Auctioneer along with those very cheap spells to cycle through the deck in the mid-game, and either smother fast decks by having more ressources than they do, or continuously develop threats against slow decks and overrun their defensive kit.
Kobolds and Catacombs added some very refined tools to the archetype that we're using in our deck.
Fal'dorei Strider acts as decent 4-drop that transforms into a win condition as the game progresses by pulling out free 4/4 from the deck, turning him into a minion worth 16/16 points of stats. Gadgetzan Auctioneer allows us to accelerate the process of Leyline Spidercreation, which gives us some form of control on the development of the pack of 4/4, and an extremly strong Tempo tool against fast decks that allows us to dominate the board.
Kingsbane, along with Deadly Poison, Cavern Shinyfinder and Leeching Poison, makes up for a very potent weapon that can both serve as multiples cheap removals to help us fight faster deck's minions in the early game and get out of range of burst cards by gaining some HP back and an infinite source of board domination and face damage against slower decks, thanks to the card's ability to permanently keep enchantments and come back in the deck once it's destroyed by Oozes or runs out of stacks.
3 - More detailed description of the deck's playstyle and the card choices [Coming up Very soon ! ]
---
4 - Mulligan guide
With the inclusion of Kobold and Catacomb's cards, mulliganing is becoming a bit harder because of the number of possibilities that'll require you to make decisions. Although this short guide will be developped in the future (with a class-by-class structure), here are the few angles on how you should consider your hands when mulliganing.
The highest-priority cards you'll always want to keep
If you're playing second and will get The Coin, Edwin is pretty much always a good keep. A 4/4 (or more with 0 mana spells) on turn 2 is going to win you a bunch of turns during which you'll be able to rebuild your hand.
He's also a good keep if you're playing first and have a Backstab. He then be easily played as 4/4 on turn 3 with the tempo swing of removing something with Backstab. You can also delay him a bit if it means he'll easily get stronger with some 1-mana card or Preparation you have in hand.
In the end, your Edwin VanCleef plays are going to be better as you start mastering the deck and won't generally be awesome right away. The general rule of thumb is that against classes that can't deal easily with a big Edwin (Druids, Rogues in the early game) or the majority of aggro decks, investing a lot into Edwin is definetely worth it. Paying attention to what you'll be able to do in the following turn also makes you consider your Edwin plays better.
Note that if you quickly pull out a 4/4 Edwin against a Priest, he's going to be a pain in the ass to deal with for him and impact the game greatly.
---
5 - Match-ups [Coming up in a dozen of days ! ]
---
6 - Extra Content/FAQ
Kingsbane is a very good looking card, fun and with a lot of potential that can be exploited if you build the deck with the correct support for it as it works very well to control the board, can give a long living Lifesteal when combined with Leeching Poison, something that a lot of rogue players have asked impatiently, and it may give you the victory on some fatigue matchups as it will go back to your deck every time it's destroyed. In other words, it has the potential to be a strong win condition for its infinite longevity with multiple functions.
Anyway, due to being a card that needs too much support to be strong it faces the problem of being only one (1) in your deck as a lot of times it will be hard to get on your early draws, which may make your support cards dead cards as long as you don't draw it. Because of this, Cavern Shinyfinder and the overall drawing ability of Miracle Rogue gives the card an ideal shell to be played inside.
Which weapon enchantments to carry

From all the weapon enchantments and tech cards available, we decided to go with x2 Deadly Poison and x1 Leeching Poison. Then, these was the thoughts we had about the more common weapon enchantments and tech cards available:
Generally, she has such a strong impact in the late game that can turn an almost lost game into our favor with the many fun and powerful combos she allows us to do. The problem with her is that in the expansion's first week's meta aggro and tempo decks are very strong and present on ladder, and thus a lot of times it is going to be hard to reach a moment where you can exploit her utility to win, so it is going to be a dead card in your hand a lot of times.
Anyway, Valeera the Hollow can be a really strong card combined with Vanish and Arcane Giant to fight against some control decks.
The importance of 4-drops
No Kingsbane means that weapon enchantments become dead cards :
---
7 - Kingsbane Miracle representation
With the release of the expansion our deck has became the most representative of Kingsbane decks. Here, you can see how has been the performance of the deck with a lot of statistical data that will help us understand the deck better:
https://hsreplay.net/decks/3YhXHpO81twOeV33tYy7Pg/#tab=overview
Also, for anyone wanting to see the deck on action before trying it, here is a showcase video made by Hearthstone youtuber kiwiinbacon. Hope you enjoy it!
And this other one by the new hearthstone youtuber KadakHS offering gameplay with very analytical commentary on how he plays the matches.
---
8 - Deck Updates
Whenever we make a change on the deck it 's going to be notified here.
08/dec/2017: -1 Mimic Pod, +1 Elven Minstrel; definitely drawing 2 minions, especially getting Auctioneer soon is more valuable than getting a random extra resource while also having another decent body on the board. Mimic Pod may have worked better in the past generating threats for a more reactive playstyle, but as our deck is more threatening, Elven Minstrel serves better for a proactive playstyle.
08/dec/2017: -1 Vilespine Slayer, +1 SI:7 Agent: right now Vilespine Slayer has very few good targets during an overall game because the proactive game right now is more designed around very small minions and face damage cards. For example, you can see that Bonemare, compared to previous metagame, is completely absent at the moment. SI:7 Agent helps eliminating those small minions while also giving a good body for its mana cost.
09/dec/2017: -1 Hallucination, +1 Shiv: it's very important to get the own cards of the deck (minions as Auctioneer, weapon tools and generating spiders) instead of looking outside.
We thank you a lot for your attention, hope we have helped you to understand the deck and maybe some more things about Hearthstone in general, and are looking forward to discuss with you in the comments if you have a question/suggestion/remark, or some feed-backs after having played Kingsbane Miracle yourself !
Also, thanks alot for all those who upvoted the deck ! We're putting a lot of efforts in producing this in-depth guide and paying attention to it's informational and visual quality because of it, and we will continue as the page continues gaining in popularity and visibility !
Jumarti & Weedovore
Promotional Content