Kitty Mojo and Winged XBow, Demon Hunter Survival Guide

Blackrock Mountain Patch 8311 - Ninja Card Back, Achievements, Mobile, Never Before Seen Boss Cards, Gold Cards


Incoming Heirloom Item Level Change
Blackrock Mountain Gameboard Interactions Video Preview
We've got a video of the Blackrock Mountain gameboard in action to share with you. Check out the video below, and if you'd like to see certain parts, we've got links to go straight to them.
---
April Cupcake Card Back Reminder
In case you missed it, the ranked gameplay card back for April 2015 is a cupcake! We're still not certain of the datamined Ninja card back's fate.
To see more card backs of Hearthstone, head on over to our card back gallery.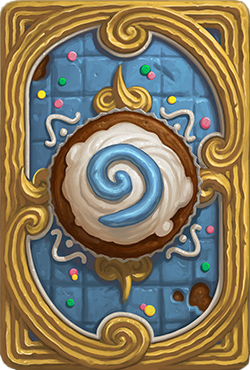 ---
Patch Clarifications
No new deck slots with Blackrock Mountain, and mobile release is still on its way.
---
Blackrock Mountain Guide
If you're looking for more information on Blackrock Mountain head on over to our massive datamined patch changes post. We've got all the golden animated cards, boss voiceovers, four new music tracks, a ninja card back, new card flavor text, and more! You can also check out the official patch notes.
---
Disappearing Naxxramas Wings
If you're a victim of the disappearing Naxxramas Wings bug, which also got rid of your Naxx cards from that wing, try restarting your client. If that doesn't work, Daxxarri would like you to respond to this thread on the Battle.net forums.
It has come to our attention that after today's patch was applied, some players appear to be missing a wing of Naxxramas that they previously owned. We're currently investigating the situation, but closing your Hearthstone client completely, and re-opening it can resolve the issue for most affected players.

If restarting your client does not resolve the issue, please let us know by posting in this thread.

Thanks in advance, and we apologize for any confusion that this might have caused.