2.3.0 PTR + patch notes are live!

New Patch Datamined - Wizard Hero, Leoric and Butcher Previews: Skins, Abilities, Talents


Dev Interview, New PvP Season, Legendary Ring Upgrades, June 29 Hotfixes, Blue Posts
Important Notice: HearthPwn will be undergoing site maintenance at 10 AM EDT on July 2nd. There will be a short downtime.
Update 3 AM EDT: Troll card back for July!
This Week's Brawl: Spiders, Spiders EVERYWHERE!
The theme of this week's Brawl is Spiders, Spiders EVERYWHERE! Spiders have overrun everything, including your deck! Whatever class you play, your deck will be TEEMING with Webspinners.
You can play as any class, but your deck is randomly generated to contain 7 random spells from your class, and 23 webspinners. Come join the rng discussion over on the Tavern Brawl forums.
---
Tavern Brawl #3 Starts Tomorrow
The Banana Brawl concluded this weekend and the cooldown between brawls is almost up. Countdowns for this week's brawl can be found below. What kind of theme are you hoping for?
| NA | EU | TW/CN | KR |
| --- | --- | --- | --- |
| Weds - 10 AM PST | Weds - 5 PM CEST | Thurs - 3 AM CST | Thurs 4 AM KST |
---
July Ranked Cardback - Darkspear
TAZDINGO! Da July card back be Troll themed mon. Vol'jin approves.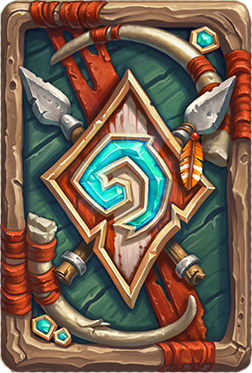 ---
The Angry Chicken Podcast #89
This week on The Angry Chicken Podcast, the crew interviewed Michelle Morrow, voice of Alleria Windrunner, about event hosting, Face Hunter, and Warcraft Lore. Later in the show Amaz hopped in to discuss the upcoming Archon Team League Championship.
The Angry Chicken is a Hearthstone podcast featuring Garrett, Dills, and Jocelyn who discuss the latest Hearthstone happenings, strategy, and stories. You can find previous episodes of TAC over on their YouTube channel.
---
Archon Team League Starts Tomorrow
Tomorrow is the start of the Archon Team League Championships! Eight teams, with three players each, will be competing for their share of a staggering $250,000 prize pool. Matches will use a best of 11 conquest format, with each player bringing 2 decks to the table and no classes being repeated on each team.
The first matchup will be Team Archon vs Nihilum, followed by Value Town vs Cloud9, starting at 10 AM PDT (13:00 EDT, 19:00 CET). All matches will be hosted on Amaz's Twitch channel.
More detailed information on the event can be found over in our Survival Guide!
---
Paladin & Shaman Alt Hero Powers
Zeriyah responded to a query on Twitter earlier today regarding alternative hero power tokens for the new Shaman and Paladin heroes which are yet to be released. It's "too early to say", but that certainly doesn't rule it out.
Would you like to see new tokens for the new heroes? Which Paladin and Shaman would you like to see?